1/5
Flat Bottom Side Gusseted Food Packaging Bags Manufacturers
Quick Details
Payment:
Western Union,T/T
Shipping:
Support Express · Sea freight · Land freight · Air freight
Supply Ability:
380000 dozen per month
Quick Details
Product Name

Pet food bag

Usage

Pet food packaging

Materials

Laminated food grade materials

Color

Up to 12 Colors

Size

Customized sizes

Design

Customized designs

Logo

Customized logo

Samples

Free (Available samples)

Application

for dog, cat, bird, animal food packing

Capacity

250g,500g,1kg,2kg,5kg,10kg,15kg,20kg

Printing

Gravure printing

MOQ

Negociatable
Product Name

OEM Side Gusset Bag For Cat Dog Packaging Pet Food Bag

Item

Pet Food Bag

Printing

Gravure Printing (up to 12 colors pringting)

Material

PET/AL/PE; PET/VMPET/ PE; According to customer's demand

Size

customized sizes

Packaging

Carton / pallet

Free Sample

Available

Artwork file

AI/PDF/CRD, at least 300 dpi resolution

Payment

50% T/T advance and 50% balance

Feature

1) Laminated material, strong; duarable

2) Resealable; non-leakage, keep food fresh, shock resistance

3) Food grade safe, for pet food, animal feed, etc.
Product Description
Popular side gusset pouch: Side gusset pouches combine some of the most intuitive features of its packaging predecessors. They provide the durability of the box pouch and the ease of use and stable structure of the stand up pouches. These attributes of the two packaging solutions are great selling points for them alone, and these features combined in the side gusset pouch make it an absolute game-changer. In addition to this, not only are side gusset pouches are also liked by consumers because of their aesthetic appeal, but consumers also prefer side gusset pouches due to the fact that they come with added layers of protective barriers that maintain the quality and the integrity of the product that you package within.

Large pet food bags: Side gusset pouches make for a great containing solution for large pet food bags. This is because it is important for the health of your customers' beloved pets that their food is keeping a safe way away from anything that may harm the food such as contaminants. What this means is that you should ensure that your pet food is packed in bags that prevent harmful substances from the atmosphere to react with and deteriorate the quality of the foodstuffs within. If the quality of the pet food is compromised, it could result in serious health issues for pets, which will certainly not make your customers too happy with you.

Easy to use: Side gusset bags are durable. They are convenient to store and their structure is sturdy. This means if your customers' furry little friends do find a way to get to their treat bags, which they often do, it will be next to impossible for them to get to the content of the pet food bag or cause spillage. This feature alone could get your raving reviews from happy customers.

Wide application: Side gusset pouches also can be used for packaging baked food, hardware products, soil and gardening products, tea, coffee, industrial chemicals and others products.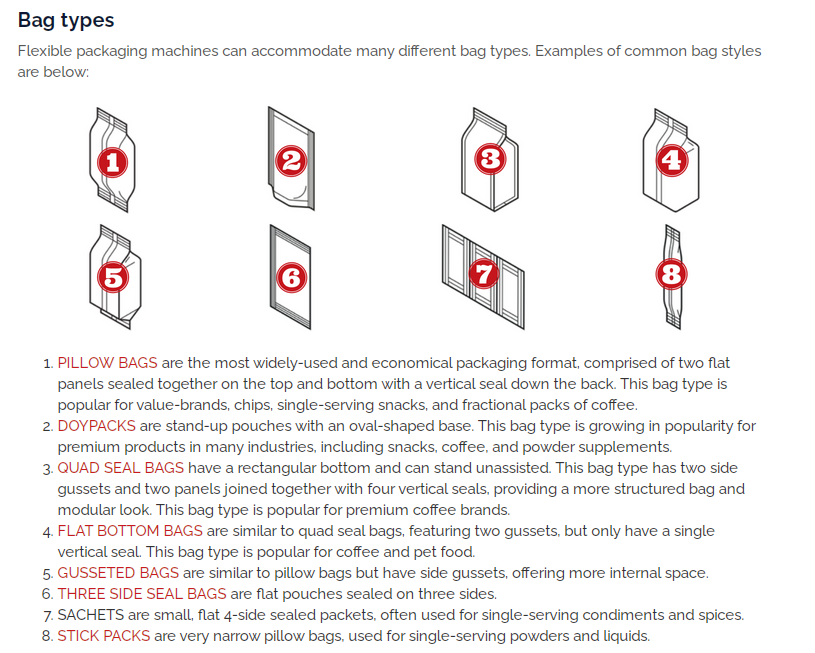 Pet food bags are used for all kind of pet food packaging, the pouches are made with the reclosable zipper for reuse purpose. In order to protect the food inside, all pet food bags are made with the high barrier material to make sure they have a longer shelf life.
Different zippers:
There have four main pet food bags in the market: flat pouch, stand up pouch, gusset pouch, block bottom pouch. Flat pouches and stand up pouches are used for small volume pet food packaging, gusset pouches, and block bottom pouches are used for large volume ones.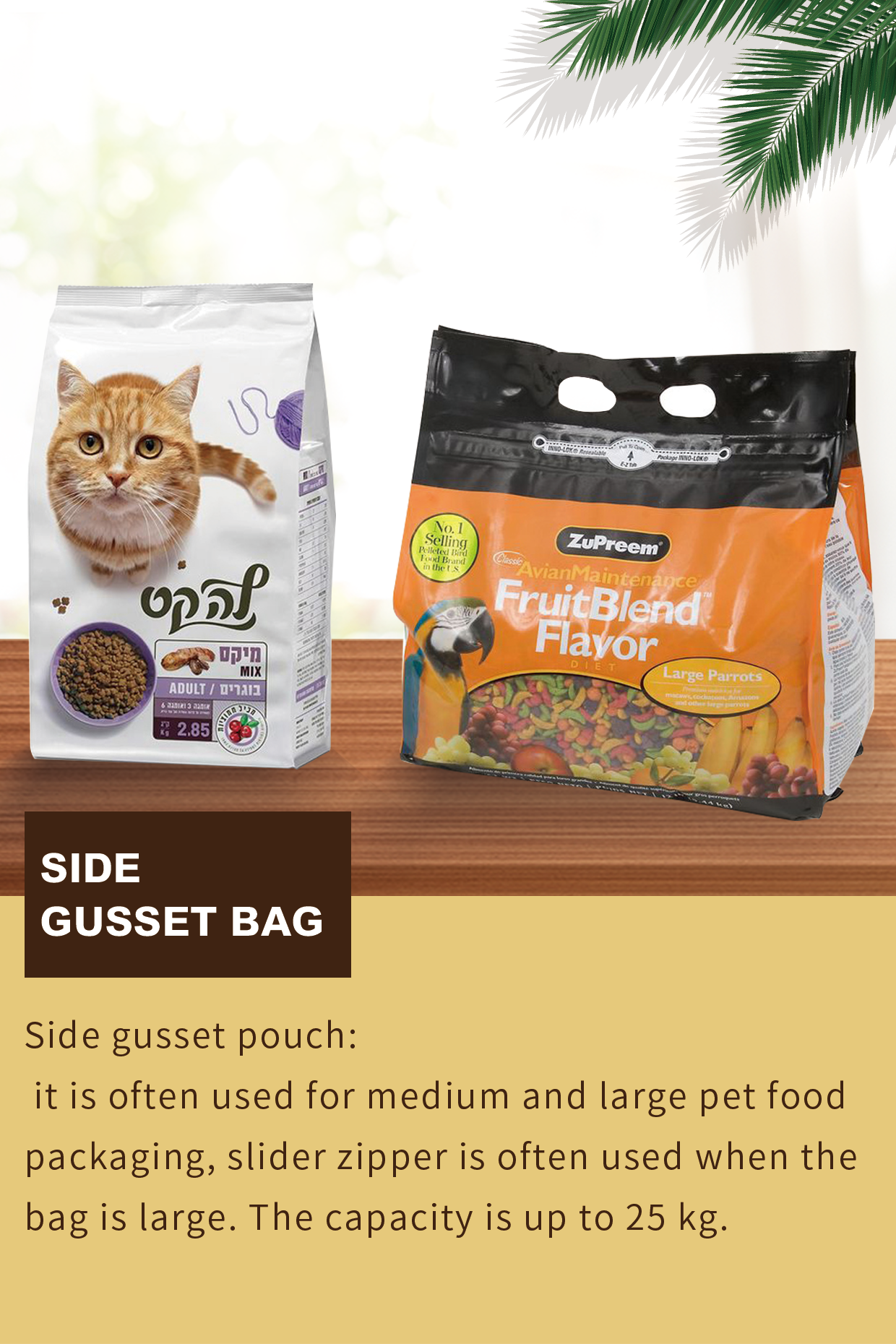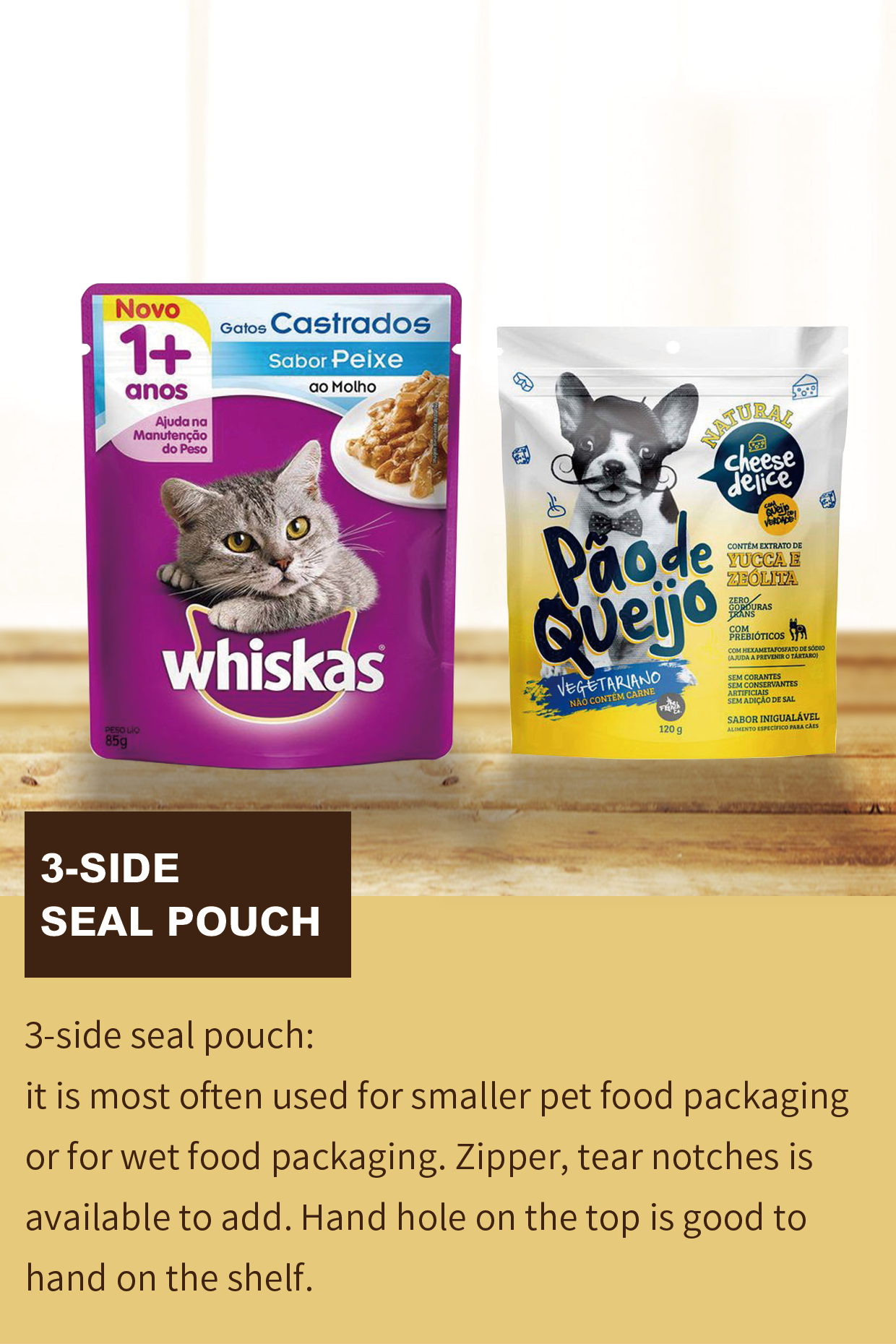 The proper pouches will bring pet food with good palatability protection, aroma shield, and improved self-supporting stability, also with zipper then makes the pouch are easy to open and close options. Our professional packaging team makes sure that every clients receives personalized solution based on their brands and packing necessities.
How to packing before shipment.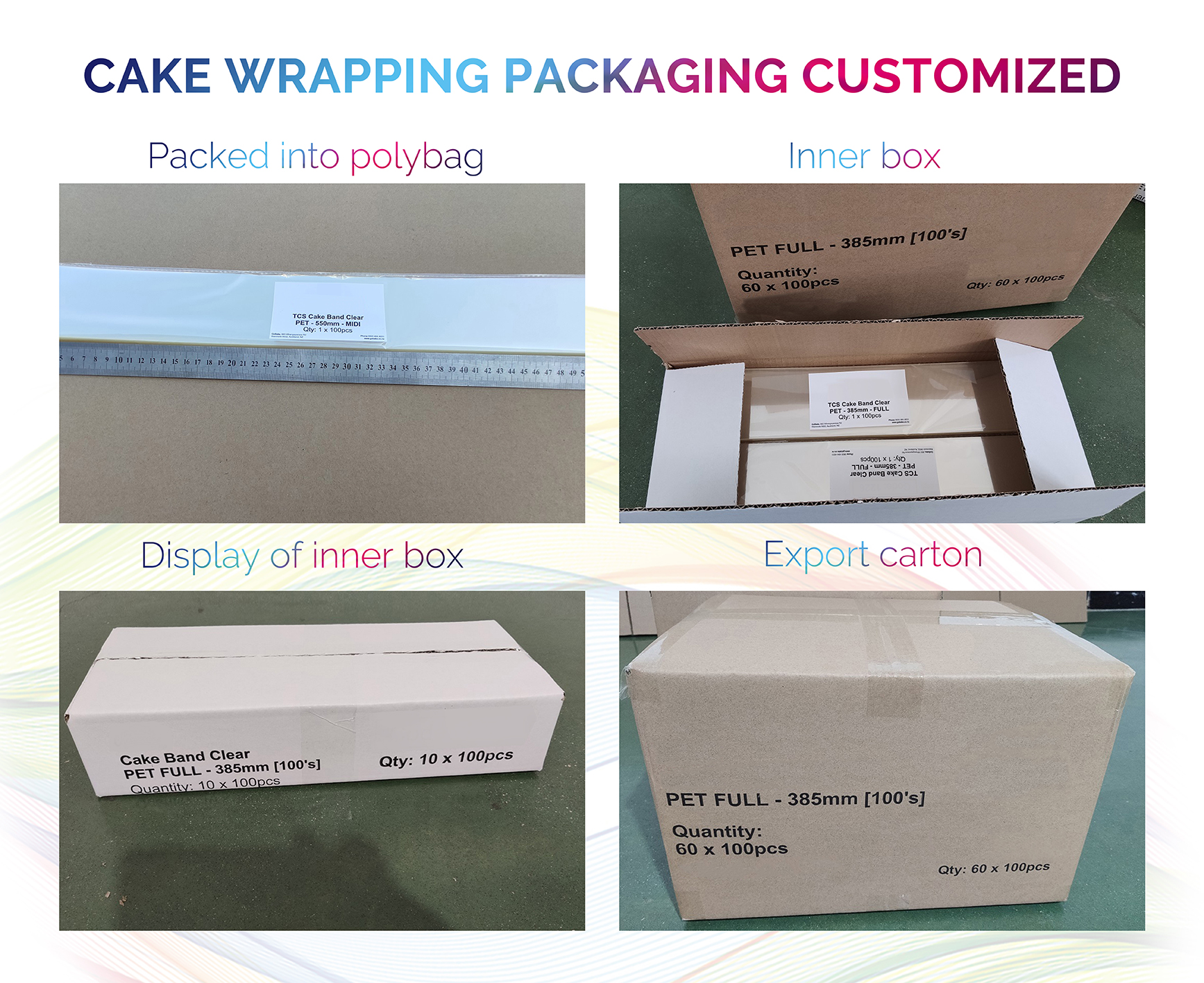 What is a pet food bag made of?
A pet food bag can feature sturdy materials that will keep the inside contents fresh.
A polypropylene-based plastic material like CPP or PET can appear in your pet food bag.
The plastic compound needs to be safe for food use and should not include any BPA compounds or other harmful items.
How do you open your pet food bag?
You can use a small tab on the top part of a pet food bag to open its body.
Some pet food bags come with zippers, although they appear underneath the tab that opens the bag the first time.
How can you seal a pet food bag?
A resealable zipper can appear on many pet food bags.
What types of pet food bags can work?
There are many pet food bag styles that you can use today:
A standup pouch will feature a design that will stay upright when on a flat surface.

A gusset bag will include an opening part that helps to keep air from getting stuck inside.

A flat pouch may also work for smaller food items.
How large can a pet food bag be?
From a dimensional standpoint, pet food bags can be about 30 to 120 cm in width.
A bag can also be 400 cm high, although that would be for bulk foods.
The size of the bag will vary based on the pet food type you're securing.
A larger bag can handle more food, but it can also take in more weight without tearing.
What kinds of pet food could you add in a pet food bag?
Your pet food bag can support various types of food:
Traditional kibble materials are ideal for a larger bag.

You can also include treats in a smaller bag.

Nutritional supplements for pets with special dietary needs can also go inside some smaller bags.
Are these pet food bags available for pets of all sorts?
You can get a pet food bag ready for any pet, including a cat, dog, rabbit, guinea pig, mouse, or another domesticated mammal.
Is it safe for you to leave the pet food bag open?
Avoid leaving a bag open, as air can cause the food to spoil.
Also, you don't want to leave it open so your pet could leaf through the bag and grab food without your permission.
What can you do about sealing the pet food bag if you don't have a zipper on the top?
A bag clip should be good provided that the clip is sturdy and the bag itself is rolled well enough.
What should you do when storing a pet food bag?
There are many things for you to do when storing a pet food bag the right way:
Keep your bag in a dry area, so added moisture would not get in the way of your food.

Make sure the bag is sealed all the way through.

Keep the food in a dark place, as sunlight could add excess heat to the food.
Flat Bottom Side Gusset Bag,Gusseted Packaging Bag Manufacturers,Food Packaging Bags Manufacturers.